Fortunately, there are several ways to retrieve lost Photo Booth images. You can use a backup, native macOS features, or dedicated data recovery software. 
Hopefully, one of the methods we describe will help show you how to find and recover the lost images.
Is it possible to retrieve deleted data from Photo Booth on a Mac?
Yes, it is possible to retrieve photos deleted from Photo Booth on your Mac. This is because when macOS deletes a file, it does not immediately remove it from its storage device. Instead, it deletes the logical links that make the data accessible to applications and marks the space occupied by the deleted item as being available for future use by the OS.
Eventually this space will be reused as new information is saved to the disk. Until that happens, the deleted files can be restored using data recovery software. But there is one very important factor to consider when attempting this recovery method.
⚠️ IMPORTANT: Stop using the storage device that experienced the data loss. Using the device risks overwriting the data you want to recover. Avoid any activity that might write to the disk until the recovery process is complete.
How to Recover Deleted Photo Booth on a Mac
We are going to show you how to recover deleted photo booth videos and images using a variety of recovery methods.
Method 1. Check the Mac's Trash
The first place to look for any deleted items on your Mac machine is in the Trash. Follow these simple steps to locate and recover a Photo Booth image from the Trash.
Open the Trash by clicking on its icon.
Scroll through the list of items in the Trash and locate the image you want to recover.
Right-click on the file and select the Put Back option which restores the file to its original location.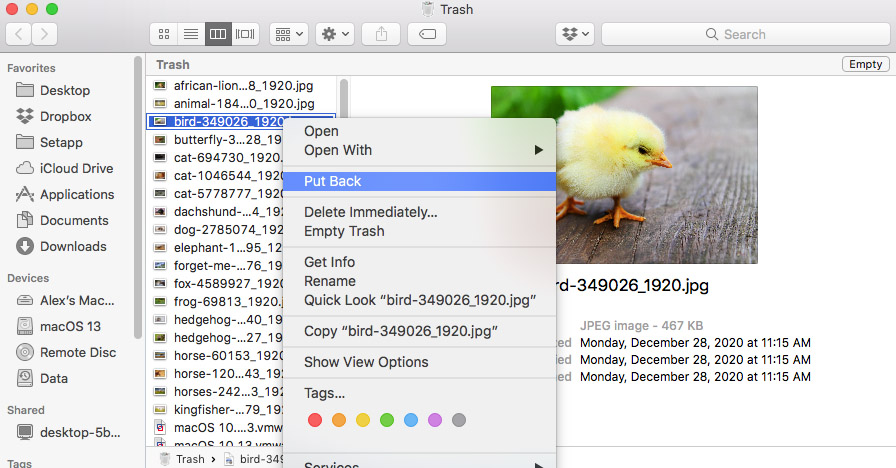 Method 2. Restore the Images with a Time Machine Backup
Restoring photos from Time Machine is another option for recovering lost images from Photo Booth. This method requires you to have created a Time Machine backup that contains the deleted images.
If you have done so, (and you are backing up your Mac, right?), use the following steps to get your photos back from a Time Machine backup.
Connect the storage device that contains the Time Machine backup to your Mac.
Open a Finder window displaying the storage location where the lost data was last stored. It will be in the folder that contains the Photo Booth images. It should be in /Users/USERNAME/Pictures/Photo Booth Library. USERNAME will be your name.
Open Time Machine by clicking the Time Machine icon on the menu bar.
With Time Machine's arrows and timeline, scroll through the snapshots and backups to locate the photos you want to retrieve.
Select the files for recovery and click the Restore button. The images will be restored to the Photo Booth Library.